The ACT Gundog Society conducted two Novice Pointer & Setter field trials on 5 & 6 June. The entry each day was 13 (8 Pointers, 4 English Setters, 1 Gordon Setter (abs)). The large paddock had good cover of native grasses, knee high in places due to good autumn rains. On the morning of the first trial the cover was very wet underfoot which made for hard walking and difficult for the birds to flush from the high umbrella grass. However, good numbers of game were produced by the dogs throughout the day. Working ability was evident but control was lacking as dogs that were finding and backing well became unsteady to shot and chased. Thus the first trial ended with no awards. The rest of the day was spent in a back up paddock to do some work to improve the control situation.
On Sunday morning the sky was overcast, the cover was dry and warm winter gear was needed in the cold wind = perfect conditions for Pointers and Setters. After the previous day's training session control had improved somewhat and some good work was performed by all dogs, particularly the English Setters. Four dogs were taken into the second round - two Pointers and two English Setters. Some nice finds and backs resulted along with fast ranging and quartering, but only one dog was a consistent performer throughout the trial and awarded first place. The winner was Quannah Sienna Dawn (Pointer bitch) owned by G Parathyras and handled by Ray Goody.
Thanks to everyone involved in a good weekend - including Society members and others who travelled long distances to attend, and not forgetting those who covered many kilometres finding and checking suitable trial paddocks.
Bruno Pollini (Judge)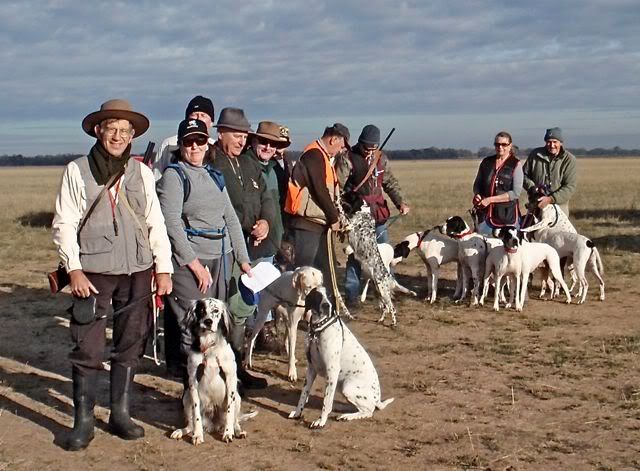 G Parathyras' Quannah Sienna Dawn (Kelly) on point, Jackie Goody's Quannah Plains Wanderer (Spot) backing: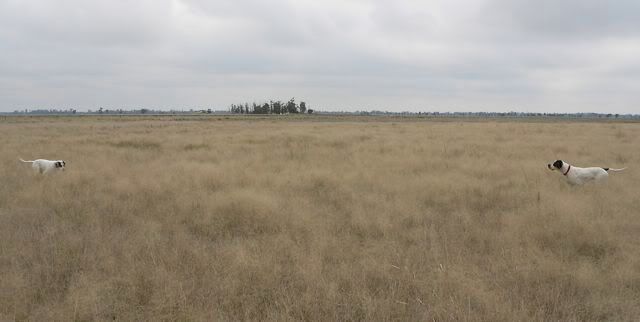 Peter Simmons' Rhyll Randwick (Flick) on point:
Jackie Goody's Quannah Plains Wanderer (Spot) on point, Peter Simmons' Rhyll Randwick (Flick) backing
John Gilligan's Quailpoint Born to be a Rogue (Blaze) on point:
Bob Stott's Masterfind Sargentpepper (Pepper) on point:
Ray Goody shoots over G Parathyras' Quannah Sienna Dawn (Kelly):