The ACT Gundog Society held Novice and Open Pointer & Setter field trials on 10 & 11 July. It was not easy to find suitable venues as birds seemed to be on the move with paddocks that held good numbers on one day, holding hardly any a day or so later. Nevertheless with a lot of travelling around different areas, society members and other triallers were able to ensure that these trials could go ahead.
Eighteen dogs were entered in each trial (20 individuals - 14 Pointers, 5 English Setters and 1 Gordon Setter). Conditions were cold and windy for Saturday's Novice (Judge B Pollini (NSW)); few birds were seen early on, and in the first round some braces were given three runs to ensure all had equal finding opportunities. After moving paddocks, some good work was produced and six dogs were taken into the second round. All ranged and quartered well, and were steady to flush and shot. Several had good finds but backing was a problem. One dog and handler stood out, completing all aspects of work with style, and my winner was David Coleman's Pointer dog Quannah Santa Anna. No other placings could be given as backing needs to improve.
Sunday's Open trial, judged by David Coleman (NSW) started off in light rain that eased off mid-morning when the day rapidly warmed up, with little wind. As previously mentioned, birds were on the move and the judge changed paddocks to produce enough quail to give all dogs a fair chance and complete the trial. Some good work was seen, but only one completed its card with good ground coverage and finds, a couple of good backs, and a nice retrieve to finish in style: R&J Goody's Pointer bitch FT Ch. Quannnah California Badja. Once again some dogs did not complete the backing requirement, so no other awards were made.
Thanks to everyone involved in making these events possible. These were the Society's last Pointer & Setter field trials for this year. Its remaining field trial is a Spaniel & Retriever Open on 7 August – details can be found elsewhere on this forum.
Bruno Pollini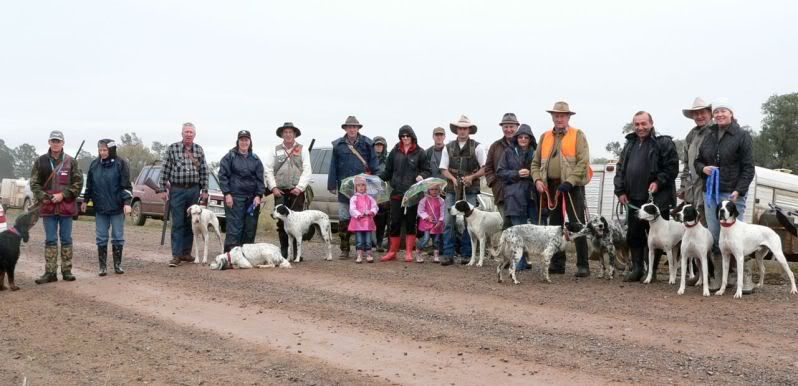 Novice Winner – David Coleman's Quannah Santa Anna:
R&C Stott's Caellenish Dottie moves in to flush a stubble quail, handler Bob Stott: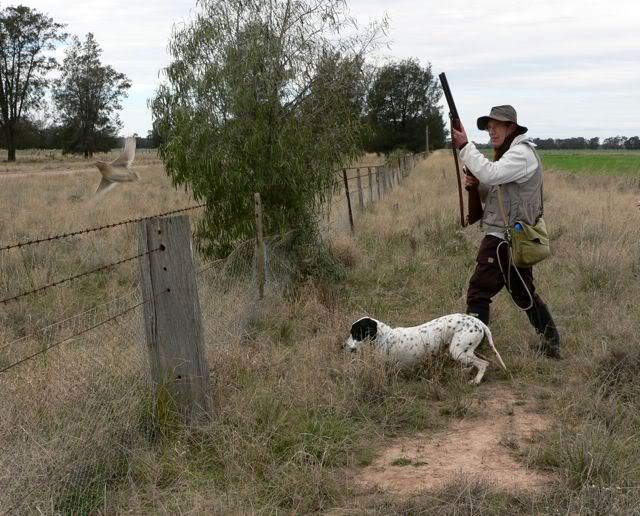 Open Winner – R&J Goody's FT Ch. Quannah California Badja, handler Ray Goody: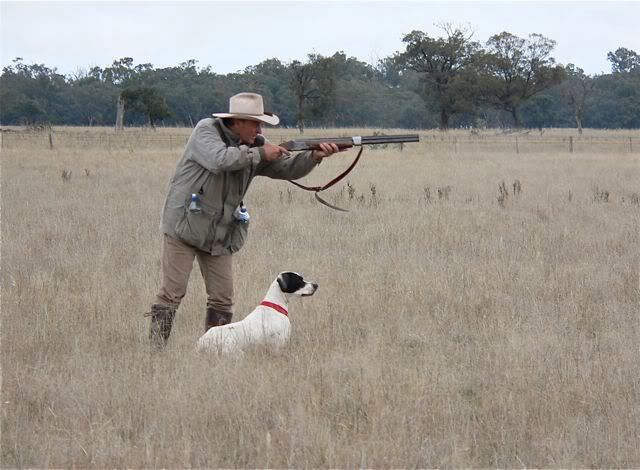 Peter Simmons shoots over Rhyll Randwick: