Hi All,
Saturday 7 August 2010
After an overnight temperature of minus 4.3 in the Canberra area and the resultant heavy frost, Saturday turned into a sunny day for the ACT Gundog Society's Open Spaniel & Retriever Field Trial. After a several of late scratchings, the field consisted of six English Springer Spaniels and one Labrador Retriever for Judge Alan Dorahy (NSW). The terrain was hilly with boulders and rocky outcrops, some fallen timber and native grass, knee high in parts. There were plenty of fresh signs of rabbit and it was not long before one of the first pair of Spaniels flushed one out, a shot was fired and a few more could be seen heading away in the distance. By the end of the first round all dogs had shown keen working ability and several rabbits were in the game bags of some competitors.
The Judge took four dogs into the second round and the draw consisted of Don Provest's Tregcrest Tim (Imp.UK) (Benny) with Hywel Blake's Glastonpark Sweetheart (Nellie); and Don Provest's Wrangham Sexy Rexy (Tex) )with Bruno Pollini's Afterlee Topper. Some walking uphill tested people's leg muscles but the dogs ran well, producing more rabbits for the gun and retrieving the shot game. After the Judge declared he had seen enough dog work to complete his score sheets, he pointed out a dam downhill and most dogs went for a drink and enjoyed a swim.
Back at the meeting place the Judge announced his placings:
1st B&C Pollini's AFTERLEE TOPPER (ESS dog);
2nd Don Provest's WRANGHAM SEXY REXY (ESS dog);
and a QC to Shane Monaghan's WENTLOOGE LITHGOW LASS (ESS bitch).
On behalf of the Society I would like to thank everyone involved in making this a most pleasant and successful day. A special thanks to the Judge, Stewards, Gunners, competitors and the spectators most of whom were attending their first and hopefully not their last S&P FT
Robert Tawton, Trial Manager
PS A special thanks to our photographer, Colleen Pollini.
Starting off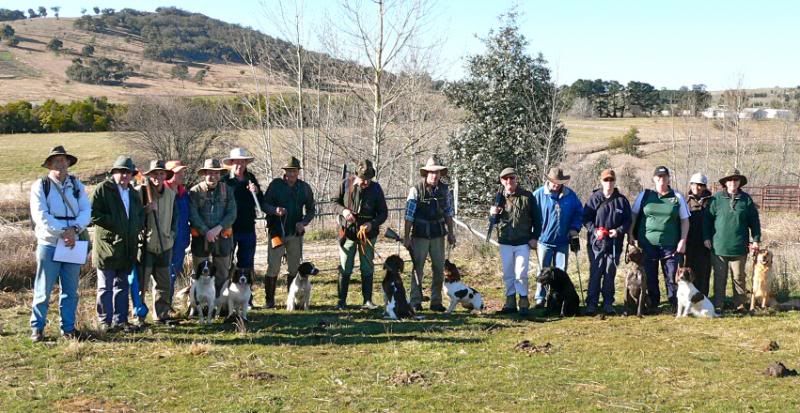 Bruno Pollini's Topper retrieves
Shane Monaghan's Bindi and Bob Tawton's Tank heads uphill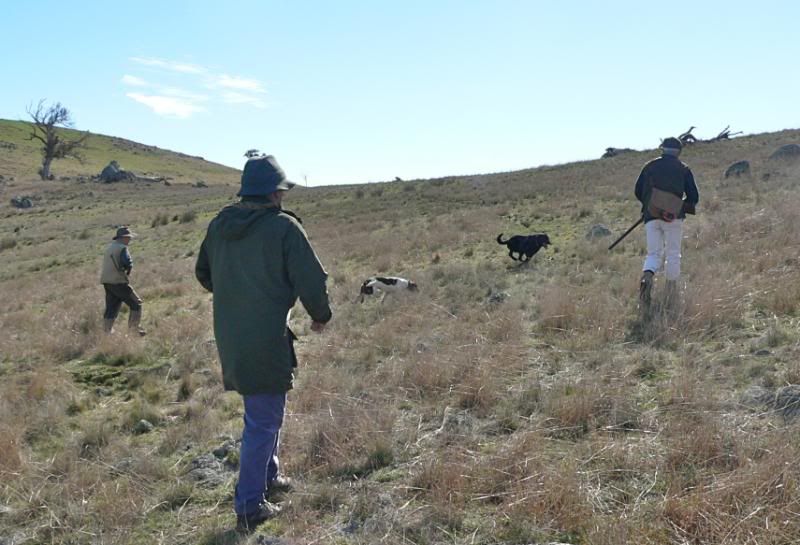 Hywel Blake's Nellie retrieves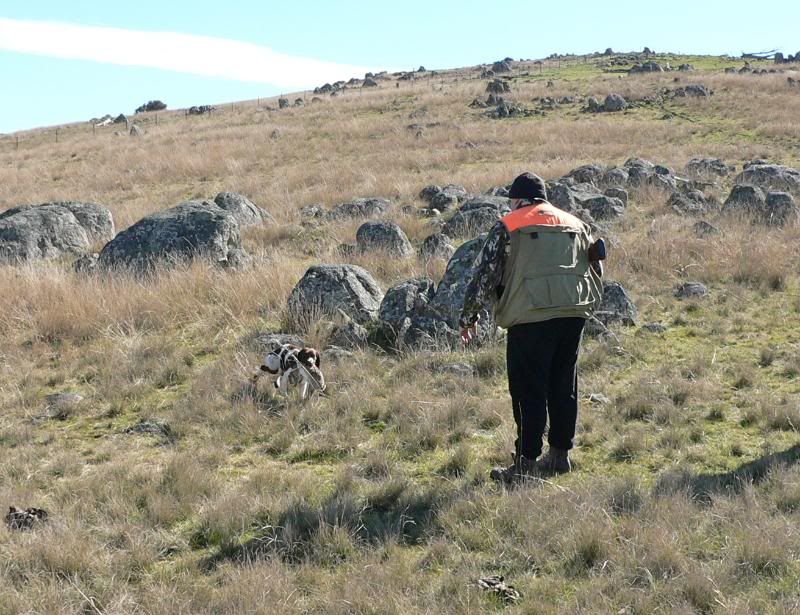 Donnie Provest's Tex retrieves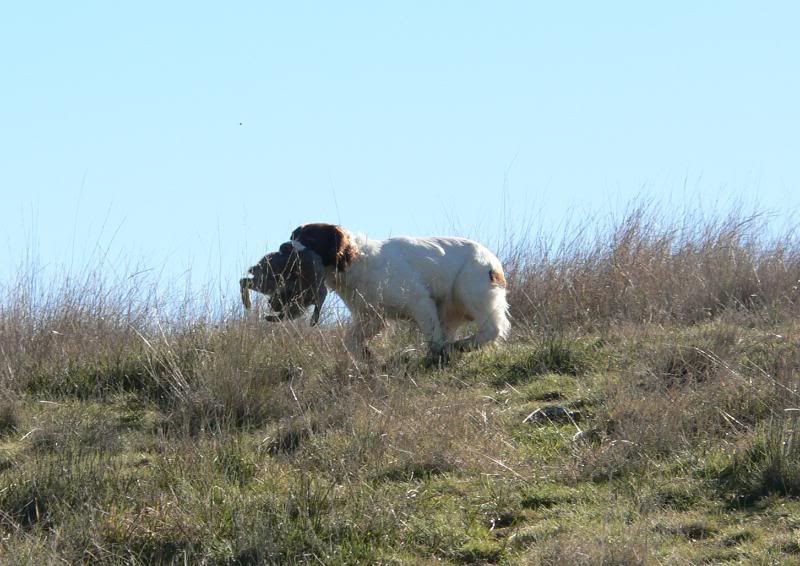 Topper retrieves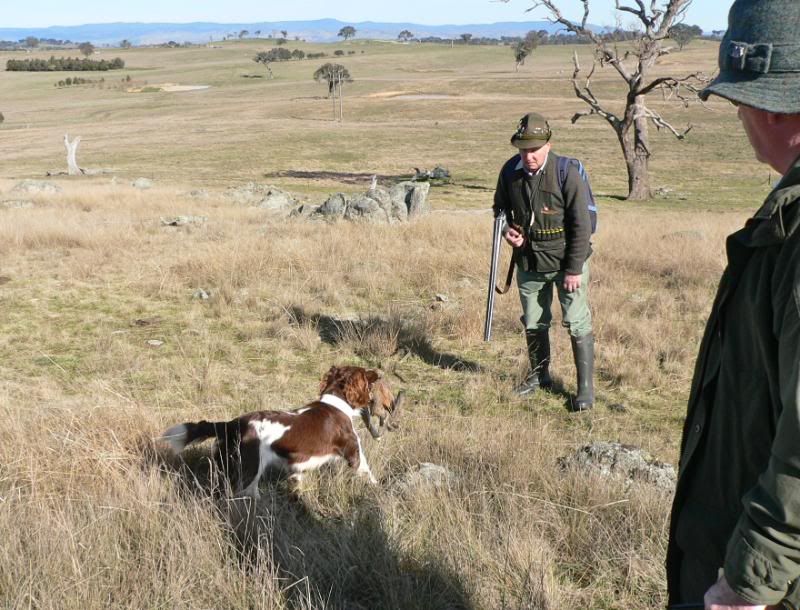 The dogs have fun in the dam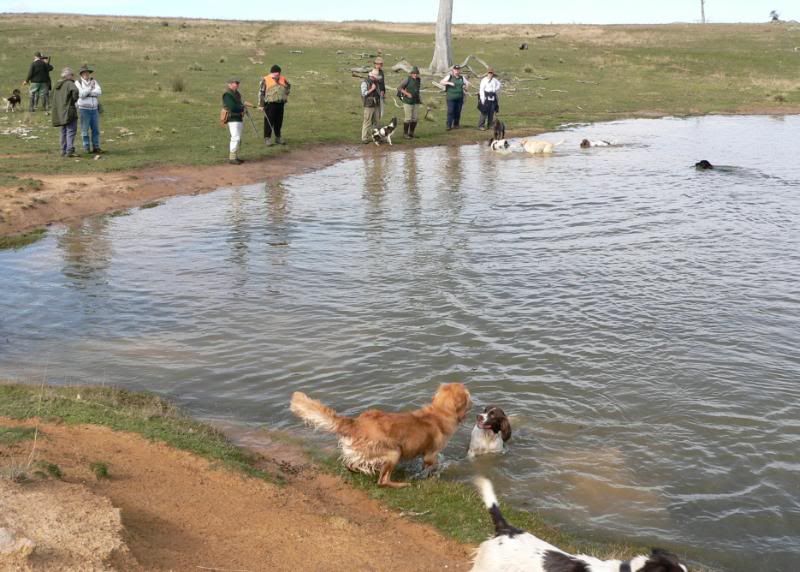 Placegetters: 1st Topper, Judge Alan Dorahy, 2nd Tex, QC Bindi